MSD WWTP – Wet Weather Expansion
Specialty sub-contractor for the 30-month project to increase the capacity of the St. Louis Metropolitan Sewer District's Lemay Wastewater Treatment Plant. The project enhanced plant operations under a wide variety of operating conditions including heavy storm surges. The mechanical contracting aspects of the project entailed associated underground piping, valves, yard structures, electrical components and instrumentation, as well as other related work.
Project Sketches and Blueprints
Metropolitan St. Louis Sewer District – Lemay Waste Water Treatment Plant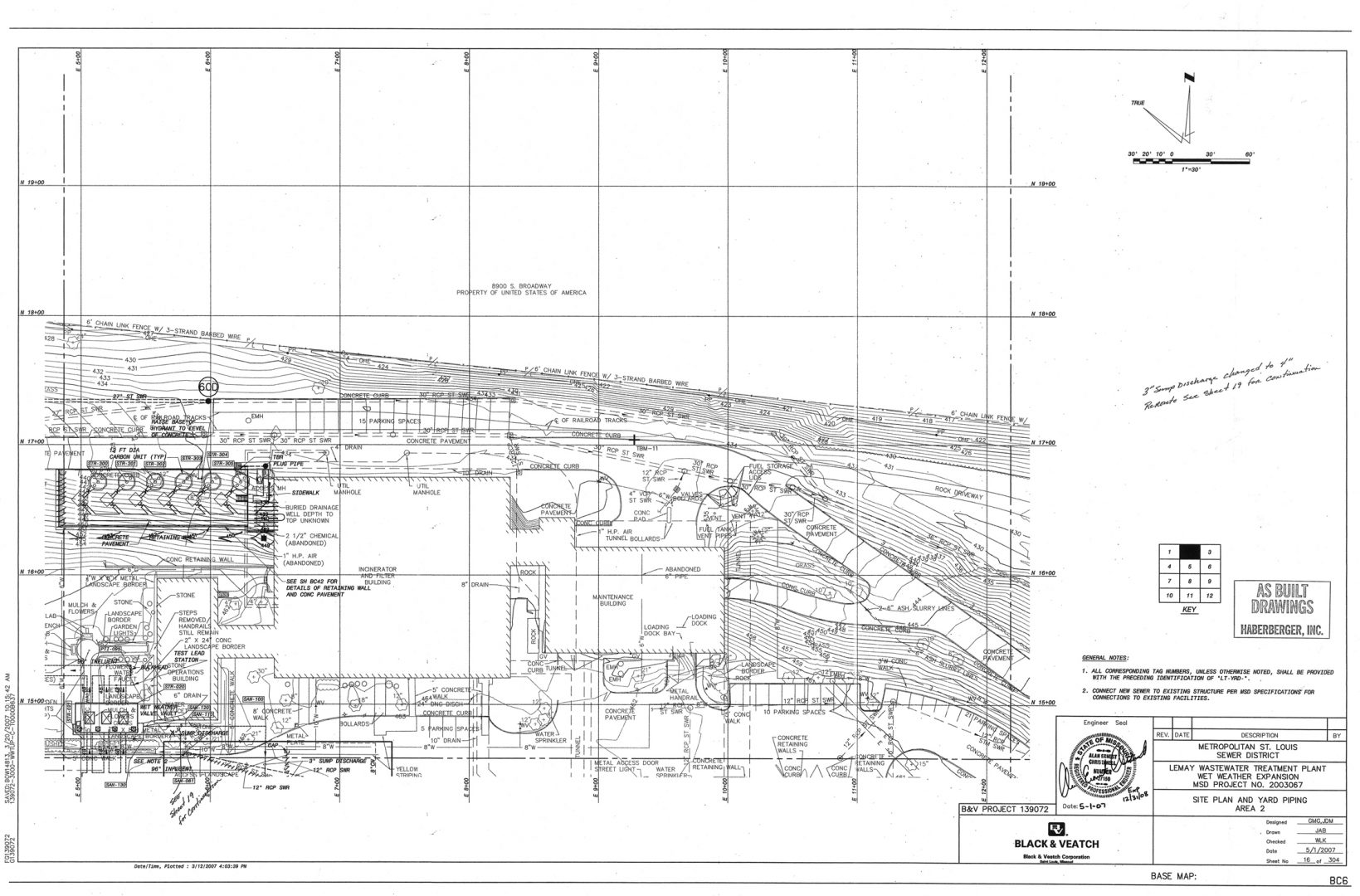 Project Scope
Installed approx. 6000 lineal feet of underground piping, ranging from 6" to 144" in diameter. HVAC upgrades in existing offices. Construction of new valve vaults and pumps stations. New odor control system comprised of fiberglass piping, vessels and blowers. Installation of 72" welded carbon steel temporary plant bypass piping to allow for 96" hot tap.
Project Outcome
The work involved deep excavation, a tunnel over 500 feet long, installation of 12-foot-diameter storm and sewer piping, and numerous large cast-in-place underground vaults/junction chambers. About 20,000 cubic yards of concrete were poured at the site. In addition, the project team successfully completed a temporary flow diversion to tie into a 96-inch influent pipe — believed to be only the second time in the United States this operation has been completed on a pipe with a diameter this large.
Project Stats
Total Project Cost: $92,000,000
Haberberger Contract Amount: $16,000,000
Construction Schedule: Fall 2007-Spring 2010
MSD Project Manager: Dave Frierdich
HMC Project Manager: Jeff Roberts
HMC Field Supervision: Phil Jones
General Contractor: Tarlton Corporation